Double Jeopardy from Nature and Nurture: Lessons from Singapore
Many Asian Indians are in double jeopardy from nature (genetic predisposition) and nurture (lifestyle factors).1-3 The synergy between the nature and nurture best explains the excess burden of heart disease among Indians worldwide.
The nature is provided by elevated blood levels of

lipoprotein(a)

(Lp(a))─ a  common but often ignored risk factor for cardiovascular  disease (CVD) found in 35-42% of Asian Indians worldwide.4 This genetically determined and dangerous cholesterol is capable of clogging the coronary arteries from age two onwards. This also explains why even non-smoking vegetarians under 40 who exercise regularly and have low levels of traditional risk factors such as cholesterol, get heart attacks.5
Given this genetic predisposition, the harmful effects of adverse lifestyle are magnified exponentially. These lifestyle factors include those associated with affluence and urbanization as well as immigration and acculturation.
Urbanization is accompanied by decreased physical activity and increased consumption of unhealthy fat and calorie dense food, resulting in abdominal obesity, insulin resistance, and atherogenic dyslipidemia. These acquired metabolic abnormalities appear to have a synergistic effect on the development of heart disease in genetically susceptible individuals (such as those with elevated levels of Lp(a)). The same thing happens with affluence within the country and/or immigration to another country.
Singapore was the first country to report a 3-4-fold higher CAD incidence and mortality among Asian Indians compared to Chinese─ the dominant population of the country.6 As a result of affluence and urbanization, the overall CAD mortality rate doubled in Singapore in last two decades of the 20th century (107 to 205/100,000 men)7 but the ethnic differences in CAD incidence and mortality were maintained.8 During the past 50 years, the differences in CAD rates between these two populations have not narrowed with Asian Indians maintaining a 3-4-fold higher incidence and mortality than Chinese.9, 10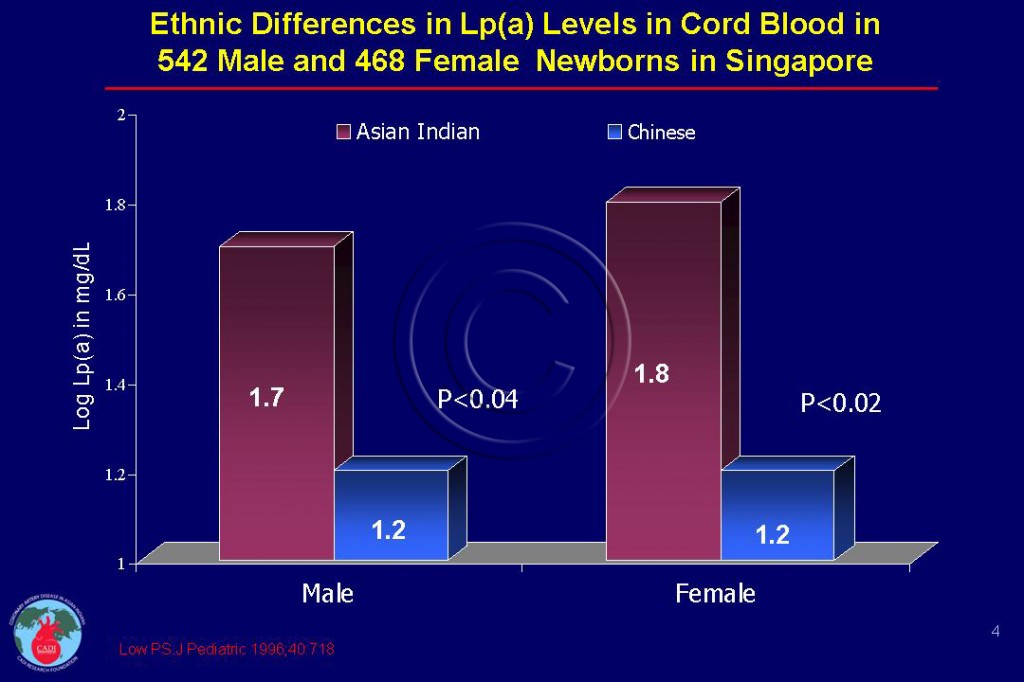 Lp(a) levels in the cord blood were nearly three times higher in Indian newborns than Chinese newborns and paralleled the differences in CAD rates observed between Chinese and Indians over the past 50 years (Figure 004).11
The Singapore experience highlights the disproportionate impact of lifestyle factors on Asian Indians and underscores the need for lower treatment targets for all risk factors.12
Sources
1. Enas EA, Chacko V, Pazhoor SG, Chennikkara H, Devarapalli HP. Dyslipidemia in South Asian patients. Curr Atheroscler Rep. Nov 2007;9(5):367-374.
2. Enas EA. How to Beat the Heart Disease Epidemic among South Asians: A Prevention and Management Guide for Asian Indians and their Doctors. Downers Grove: Advanced Heart Lipid Clinic  USA; 2010.
3. Enas EA. Lipoprotein(a) is an important genetic risk factor for coronary artery disease in Asian Indians. Am  J  Cardiol. 2001;88:201-202.
4. Enas EA, Dhawan J, Petkar S. Coronary artery disease in Asian Indians: lessons learnt and the role of lipoprotein(a). Indian heart journal. Jan-Feb 1997;49(1):25-34.
5. Enas EA. Coronary artery disease epidemic in Indians: a cause for alarm and call for action. Journal of the Indian Medical Association. Nov 2000;98(11):694-695, 697-702.
6. Danarag TJ, Acker M, Danaraj W, Ong W, Yam T. Ethnic group differences in coronary heart disease in Singapore:  an analysis of necropsy records. Am Heart J. 1959;58:516-526.
7. Hughes K. Trends in mortality from ischaemic heart disease in Singapore, 1959 to 1983. Int J Epidemiol. 1986;15(1):44-50.
8. Hughes K, Ong C-N. Vitamins, selenium, iron, and coronary heart disease risk in Indians, Malays, and Chinese in Singapore. J Epidemiol Community Health. 1998;52:181-185.
9. Lee J, Heng D, Chia KS, Chew SK, Tan BY, Hughes K. Risk factors and incident coronary heart disease in Chinese, Malay and Asian Indian males: the Singapore Cardiovascular Cohort Study. Int J Epidemiol. 2001;30(5):983-988.
10. Heng DM, Lee J, Chew SK, Tan BY, Hughes K, Chia KS. Incidence of ischaemic heart disease and stroke in Chinese, Malays and Indians in Singapore: Singapore Cardiovascular Cohort Study. Ann Acad Med Singapore. 2000;29(2):231-236.
11. Low PS, Heng CK, Saha N, Tay JS. Racial variation of cord plasma lipoprotein(a) levels in relation to coronary risk level: a study in three ethnic groups in Singapore. Pediatr Res. 1996;40(5):718-722.
12. Enas  EA, Singh V, Gupta R, Patel R, et al. Recommendations of the Second Indo-US Health Summit for the prevention and control of cardiovascular disease among Asian Indians. Indian heart journal. 2009;61:265-74.