Malignant Heart Disease
Coronary artery disease (CAD) is not only more common and premature but more dangerous in Indians compared to Americans, Europeans, Chinese, Japanese and other populations.

Cardinal features of CAD

in Indian patients include aggressive, severe, malignant, and diffuse disease (spread along an artery instead of  just one or two spots) with a higher incidence of double vessel disease, triple vessel disease, left main disease, and significant left ventricular dysfunction at presentations.1
Nowhere is this malignant heart disease more evident than in India where 900 people under the age of 30 die everyday from heart disease. This number increases to 1918 per day in those who are younger than 40 years of age. Of all deaths from CAD in India, 14% occur in those younger than 30 years of age and 30% in those who are younger than 40 years of age.2
Malignant heart disease refers to these types of heart disease commonly found in Asian Indians characterized by extreme prematurity, severity, and rapid progression leading to high mortality at a young age.1, 3-7 In many cases, despite repeated coronary stents and surgeries, the blockages of arteries can often return and cause death and/or disability.8 Besides, the disease process is far advanced and not amenable to coronary angioplasty, stent, or bypass surgery when first detected or diagnosed.9, 10
Figure 002 shows malignant heart disease in a vegetarian with none of the traditional risk factors. He had 75% narrowing of the left main artery and 99% narrowing of the left anterior descending artery ("widow-maker" artery) and multiple narrowing of the left circumflex artery.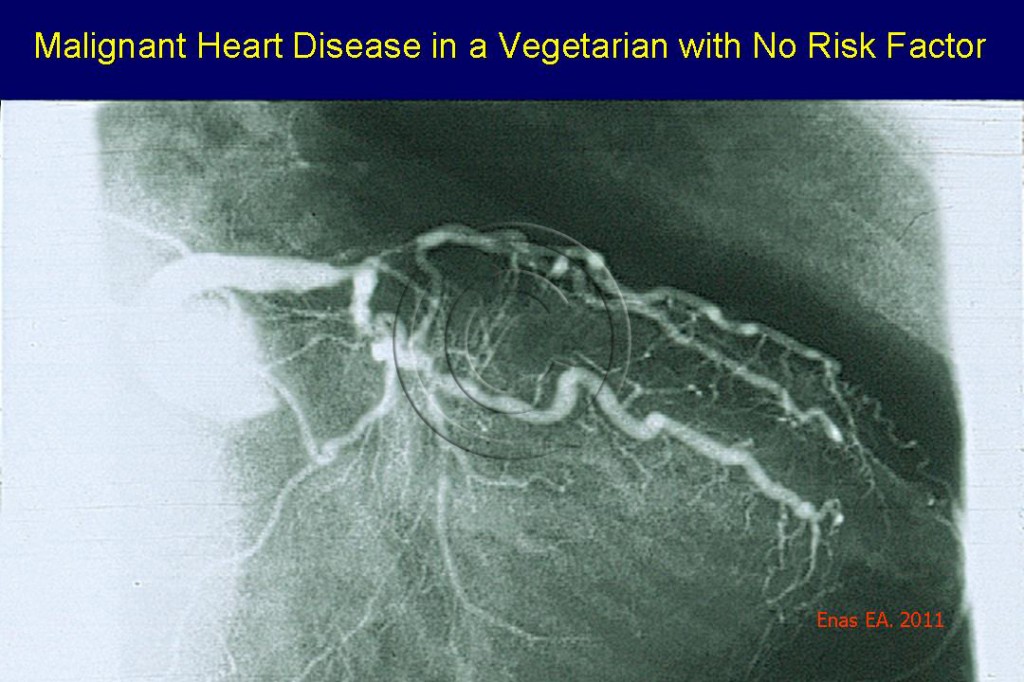 Figure 003 shows the amazing endarterectomy specimen that completely blocked his right coronary artery removed en-mass during emergency quadruple bypass surgery.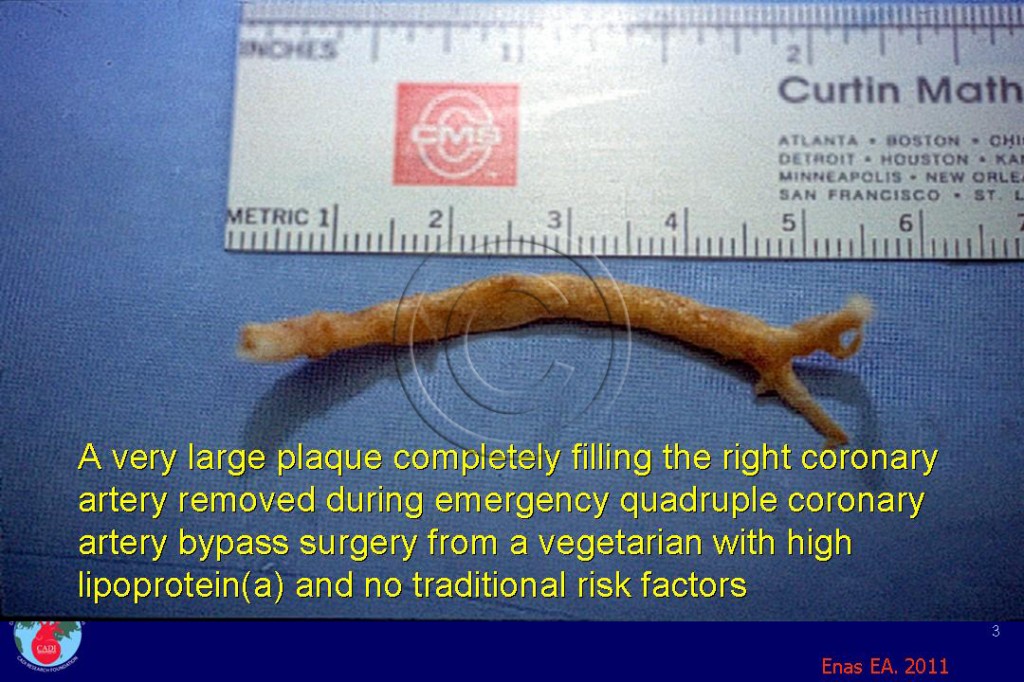 Even non-smoking vegetarians under the age of 40 who regularly exercise are often at high risk of malignant heart disease (see

classification of CAD

) because of the high prevalence of genetic risk factors that make them highly vulnerable to heart disease even in the absence of major traditional risk factors. Poor lifestyle choices such as smoking and unhealthy diet can further increase the risk in genetically prone individuals.4, 11
In an angiographic study from South India involving 1066 consecutive males admitted for CAD, 82% had significant disease. Of these, 55% were younger than 50 years of age, 34% younger than 45 years of age and 12% younger than 40 years of age.12
Although the mean age was 48 years, 3-vessel disease was more common (55%) than double vessel disease (24%) and single vessel disease (24%) combined.12 Studies in North India have confirmed the high prevalence of 3-vessel disease.6
The high prevalence of 3-vessel disease (35%) was also reported in non-smoking pre-menopausal Asian

Indian women

.13, 14 The incidence of 3-vessel disease in post-menopausal women was reported to be 57% from another center.14
Left main and 3-vessel disease were reported twice as often in Asian Indian women than in white women in Canada.15
Diabetes, high levels of lipoprotein(a), and high TC/HDL-C ratio─ the strongest predictors of extent, severity and prematurity of heart disease─ are widely prevalent among Asian Indians and explains the malignant CAD.16
Sources
1. Enas EA, Mehta J. Malignant coronary artery disease in young Asian Indians: thoughts on pathogenesis, prevention, and therapy. Coronary Artery Disease in Asian Indians (CADI) Study. Clinical cardiology. Mar 1995;18(3):131-135.
2.  Indrayan A. Forecasting vascular disease cases and associated mortality in India. 2010;http://www.whoindia.org/LinkFiles Sept 25,  2010.
3. Enas EA. Why Indians are more susceptible to Coronary artery disease: Role of specific risk factors In: Chatterjee SS, ed. Update in Cardiology Hyderabad: Cardiology Society of India; 2007.
4. Enas EA. Why is there an epidemic of malignant CAD in young Indians? Asian J Clin Cardiol. 1998;1:43-59.
5. Zimmerman FH, Cameron A, Fisher LD, Ng G. Myocardial infarction in young adults: angiographic characterization, risk factors and prognosis (Coronary Artery Surgery Study Registry). J Am Coll Cardiol. Sep 1995;26(3):654-661.
6. Sharma SN, Kaul U, Wasir HS, et al. Coronary arteriographic profile in young and old Indian patients with ischaemic heart disease: A comparative study. Indian heart journal. 1990;42(5):365-369.
7. Pahlajani DB, Chawla MH, Kapashi KA. Coronary artery disease pattern in the young. J Assoc Physicians India. 1989;37(5):312-314.
8. Enas EA. How to Beat the Heart Disease Epidemic among South Asians: A Prevention and Management Guide for Asian Indians and their Doctors. Downers Grove: Advanced Heart Lipid Clinic  USA; 2010.
9. Enas EA, Yusuf S, Mehta JL. Prevalence of coronary artery disease in Asian Indians. Am J Cardiol. Oct 1 1992;70(9):945-949.
10. Lowry PJ, Glover DR, Mace PJ, Littler WA. Coronary artery disease in Asians in Birmingham. Br Heart J. 1984;52(6):610-613.
11. Bhalodkar NC, EA E. Malignant Coronary Artery Disease and the Asian Indian Paradox  Proceedings of the 13th International Congress on Heart Disease Conference, New Trends in Research, Diagnosis, and Treatment 2007:157-164.
12. Krishnaswami S, Prasad NK, Jose VJ. A study of lipid levels in Indian patients with coronary arterial disease. Int J Cardiol. 1989;24(3):337-345.
13. Pinto  RJ, Bhagwat AR, Loya YS, Sharma S. Coronary artery disease in premenopausal Indian women: risk factors and angiographic profile. Indian heart journal. 1992;44(2):99-101.
14. Dave TH, Wasir HS, Prabhakaran D, et al. Profile of coronary artery disease in Indian women: Correlation of clinical, non invasive and coronary angiographic findings. Indian heart journal. 1991;43(1):25-29.
15. Gupta M, Brister S. Is South Asian ethnicity an independent cardiovascular risk factor? The Canadian journal of cardiology. Mar 1 2006;22(3):193-197.
16. Kaul U, Bhatia V. Perspective on coronary interventions & cardiac surgeries in India. Indian J Med Res. Nov 2010;132(5):543-548.