Stroke among South Asians in the UK 
Among South Asian men, stroke accounts for 10% of all deaths compared to 7% among Europids; among South Asian women, stroke accounts for 12% of all deaths compared to 11% among Europids. The age-standardized  mortality ratios for stroke is substantially higher among South Asians with Bangladeshis having the highest risk (Figure 029).1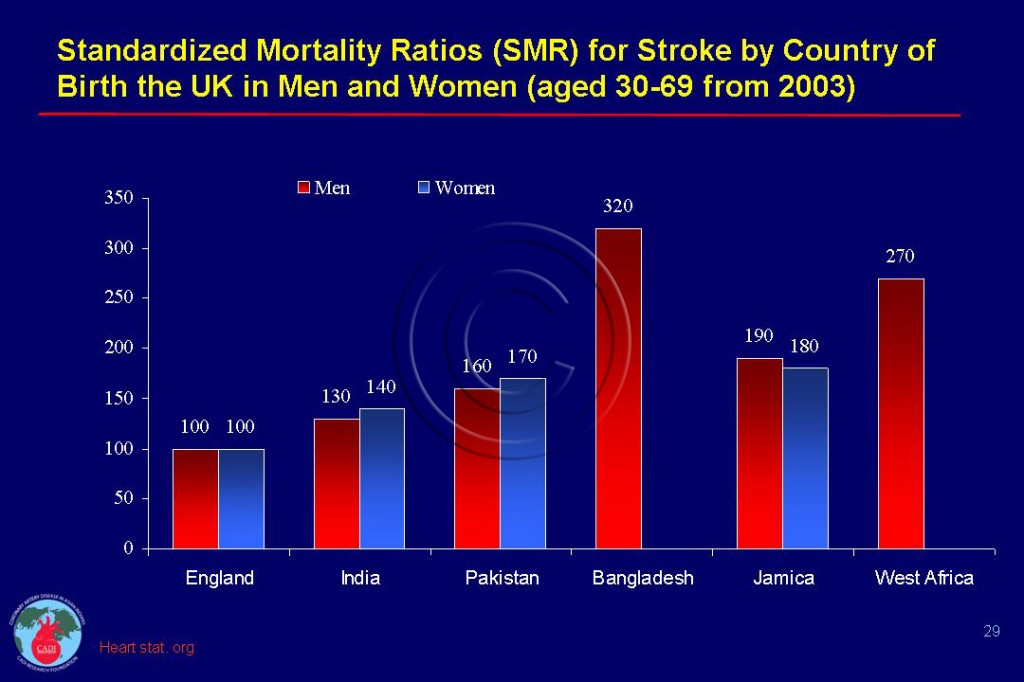 South Asians with stroke have a higher frequency of high blood pressure, diabetes, and high cholesterol than whites.2
South Asians have the highest rates of stroke in Canada─ higher than whites, Chinese, and blacks. This is also true in Mauritius (see

CADI Mauritius

).3
Sources
1. www.heartstats.org. CHD Statistics. Mortality. 2011. Accessed July 15, 2011.
2. Banerjee S, Biram R, Chataway J, Ames D. South Asian strokes: lessons from the St Mary's stroke database. QJM. Jan 2010;103(1):17-21.
3. Chiu M, Austin PC, Manuel DG, Tu JV. Comparison of cardiovascular risk profiles among ethnic groups using population health surveys between 1996 and 2007. CMAJ. Apr 19 2010.