Kerala women 
Approximately 40% of CAD (coronary artery disease) death in women occur before the age of 65 years compared to 60% in men.1 Women with  a heart attack have more than double the mortality compared to men (23% vs. 9%) with diabetic women having even higher mortality.2
The age-adjusted CAD mortality rates are 128 per 100,000  for women and 382 per 100,000 for men.1 At every age group CAD mortality is less than half in women as in men but increases 200-fold between ages 25 and 75 years (from 8 per 100,000 to 1640/100,00).1 The CAD mortality doubles between ages 25 and 35 and triples for every decade thereafter.1
Table 108 A. The age-specific CAD mortality rates per 100,0001

25-34yrs

35-44yrs

45-54yrs

55-64yrs

65-74yrs

>

75yrs

Men

17

59

248

669

1557

3501

Women

8

17

60

182

513

1640
CAD mortality rate among women lags behind men by 10 years in all age groups. For example, the CAD mortality rate for a woman in the age group 45-54 years is similar to a man 35-44 years (Table 108 A).1
For women, CAD mortality rises nearly 3-fold for every 10 year increase in age starting from age 25.
For men, compared to the 35-44 age group, CAD mortality rises 4-fold in the 45-54 age group and then double for every decade thereafter.
The prevalence of risk factors are particularly high among women in rural Kerala compared to women in the rest of India (Figure 036).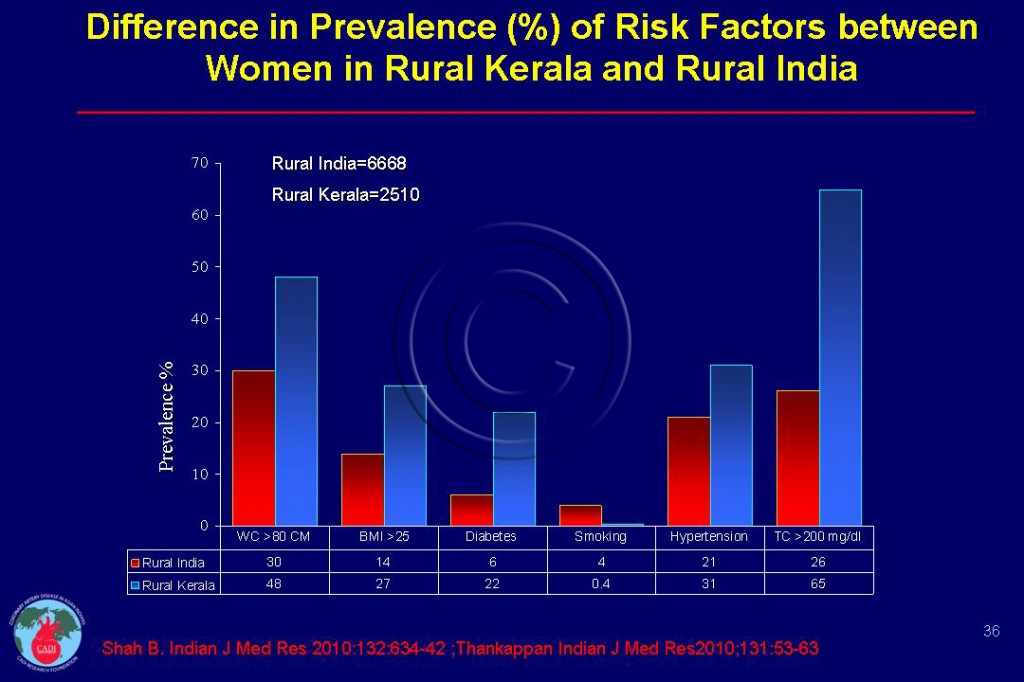 Tobacco use and alcohol intake are very infrequent in Kerala women.3 The prevalence of high blood pressure, high triglycerides and low HDL (high density lipoprotein cholesterol) levels are lower than in men in Kerala.2, 3
Women have a higher prevalence of obesity, and

abdominal obesity

compared to men.2, 3 Prevalence of obesity (Body Mass Index >25) is 38% in women compared to 24% in men.3 Abdominal obesity is found in one half of women in Kerala and one third of men.3, 4 
Women have a higher prevalence of

diabetes

. However, they are  more likely to be aware of diabetes and be treated than men, although their control rates were much lower.3
Sources 
1. Soman C. R, Kutty VR, Safraj S, Vijayakumar K, Rajamohanan K, Ajayan K. All-Cause Mortality and Cardiovascular Mortality in Kerala State of India: Results From a 5-Year Follow-up of 161 942 Rural Community Dwelling Adults. Asia Pac J Public Health. May 10 2010.
2. Misiriya K. J, Sudhayakumar N, Khadar SA, George R, Jayaprakasht VL, Pappachan JM. The clinical spectrum of acute coronary syndromes: experience from a major center in Kerala. J Assoc Physicians India. May 2009;57:377-383.
3. Thankappan K R, Shah B, Mathur P, et al. Risk factor profile for chronic non-communicable diseases: results of a community-based study in Kerala, India. Indian J Med Res. Jan 2010;131:53-63.
4. Shah B, Mathur P. Surveillance of cardiovascular disease risk factors in India: the need & scope. Indian J Med Res. Nov 2010;132(5):634-642.