Overview 
South Asians, Chinese and blacks represents approximately 60% of the world's population but most of the CVD (cardiovascular disease) and its risk factors are derived from white populations.1 Although both Chinese and Asian Indians in the US are classified as Asian Americans, they are diametrically opposite in terms of morbidity and mortality from CAD (coronary artery disease).2
Despite very high rates of smoking and high blood pressure, the Chinese have very low  and the Japanese have the lowest rates of heart disease .2, 3
In sharp contrast Asian Indians have the highest rates of heart disease despite having similar or lower levels of traditional risk factors, with the exception of diabetes (

Asian Indian Paradox

).2, 3
Hispanics have the lowest rates of heart disease despite high rates of obesity, diabetes, metabolic syndrome, and low socioeconomic status (

Hispanic paradox

) (See Figure 073).4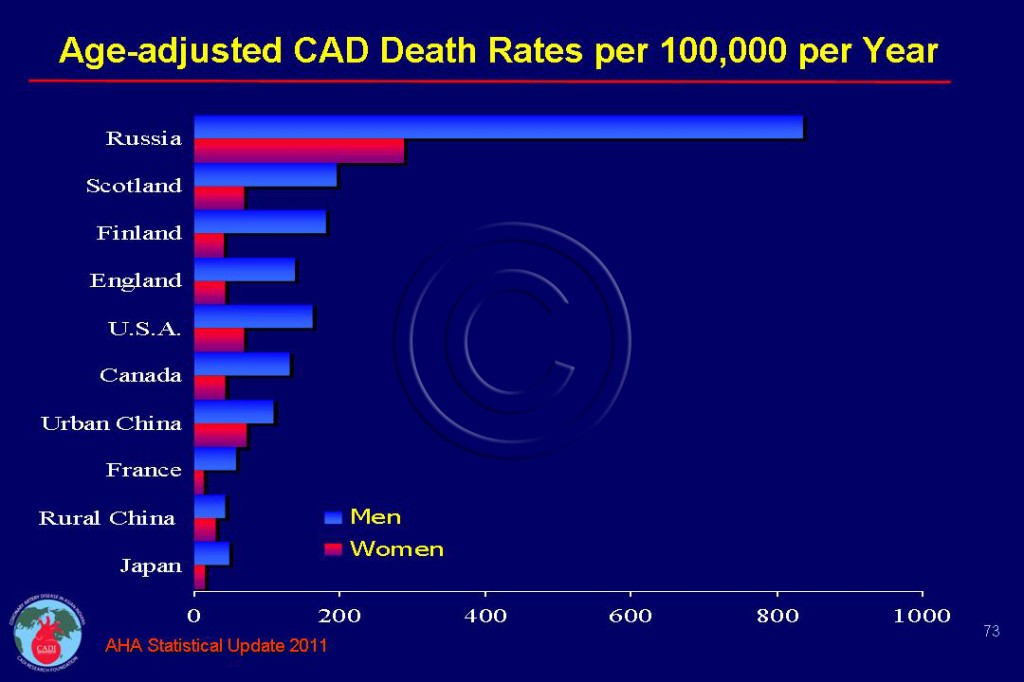 Asian Americans have the lowest rates of heart disease except for Hispanics (See

Asian Americans

).
 Sources
1. Krishnan A, Yadav K, Kaur M, Kumar R. Epidemiology to public health intervention for preventing cardiovascular diseases: the role of translational research. Indian J Med Res. Nov 2010;132(5):643-650.
2. Jha P, Enas E, Yusuf S. Coronary Artery Disease in Asian Indians: Prevalence and Risk Factors. Asian Am Pac Isl J Health. Autumn 1993;1(2):163-175.
3. Enas EA. How to Beat the Heart Disease Epidemic among South Asians: A Prevention and Management Guide for Asian Indians and their Doctors. Downers Grove: Advanced Heart Lipid Clinic  USA; 2011.
4. American Heart Association. Heart and Stroke Statistical Update2011.