Caribbean
Several Prospective surveys from Trinidad have consistently reported an excess burden of CAD (coronary artery disease) among Indians compared to people of other ethnic origin.1
Prospective surveys in adults in Port-of-Spain, Trinidad showed highest CVD (cardiovascular disease) mortality among Indians which was 8 times higher than people of mixed decent (Figure 027). 1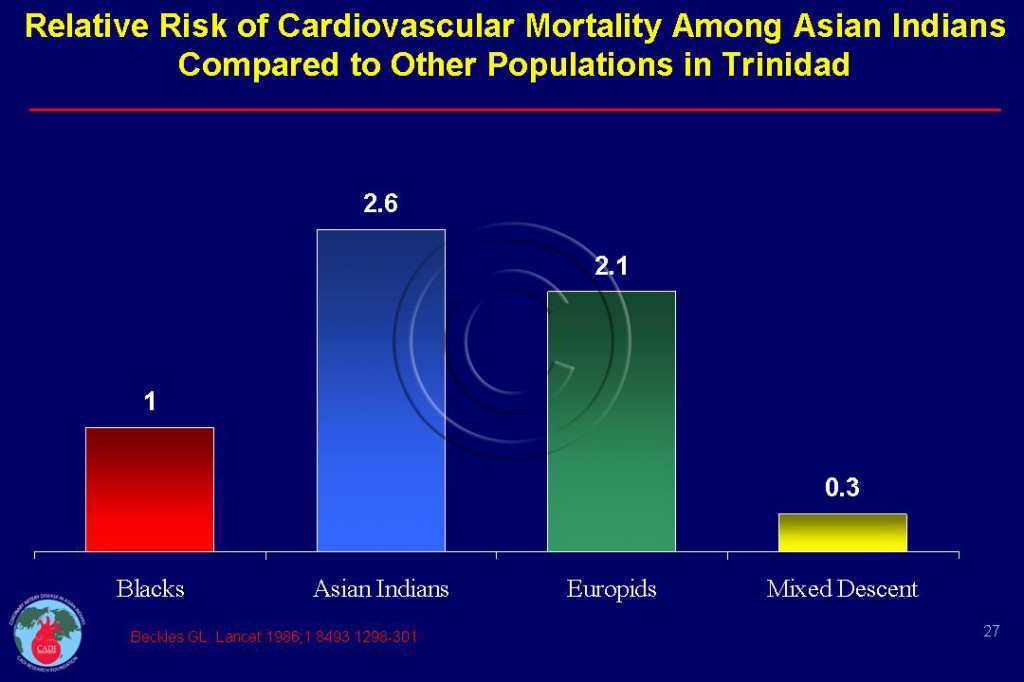 These ethnic differences in risk were not explained by systolic blood pressure, fasting blood glucose, serum high-density lipoprotein or low-density lipoprotein concentrations. Although Indians had higher prevalence of diabetes (19%), diabetes could not explain the excess burden of CAD.1
The St. James survey in Trinidad followed nearly 2,000 adults who had been free of heart disease for 10 years for the development of new heart disease. The risk of developing a first major coronary event (heart attack, death etc) among Indians was twice that of whites and seven times higher than for people of other ethnic origins, after adjusting for differences in age.2
Indians had double the incidence of diabetes but not high blood pressure in Trinidad. Besides Indian diabetics had extremely high risk of heart disease in sharp contrast to very low risk of heart disease among blacks with diabetes.3
Studies in the UK have shown that the CAD mortality among Indians is 2-fold higher than whites even when adjustments are made for the high prevalence of diabetes, metabolic syndrome, socioeconomic status, and other modifiable risk factors.4
Sources
1. Beckles G L, Miller GJ, Kirkwood BR, Alexis SD, Carson DC, Byam NT. High total and cardiovascular disease mortality in adults of Indian descent in Trinidad, unexplained by major coronary risk factors. Lancet. Jun 7 1986;1(8493):1298-1301.
2. Miller GJ, Beckles GL, Maude GH, et al. Ethnicity and other characteristics predictive of coronary heart disease in a developing community: principal results of the St James Survey, Trinidad. Int J Epidemiol. 1989;18(4):808-817.
3. Ezenwaka CE, Nwagbara E, Seales D, et al. Prediction of 10-year coronary heart disease risk in Caribbean type 2 diabetic patients using the UKPDS risk engine. Int J Cardiol. Mar 6 2009;132(3):348-353.
4. Forouhi NG, Sattar N, Tillin T, McKeigue PM, Chaturvedi N. Do known risk factors explain the higher coronary heart disease mortality in South Asian compared with European men? Prospective follow-up of the Southall and Brent studies, UK. Diabetologia. Nov 2006;49(11):2580-2588.