Trans Fat 
In the last decades there has been continuing accumulation of evidence that trans fats have harmful action in blood lipid metabolism, atherosclerosis development and cardiovascular disease (CVD), as well as in infant development.
Trans fat is the most dangerous dietary fat of all. It decreases HDL and raises LDL, lipoprotein(a) and total cholesterol/HDL (TC/HDL) ratio, thereby markedly increasing the risk of coronary artery disease (CAD) even at low levels of consumption (1 to 2% of total energy intake).1, 2
Typical western diet contains 2-5% energy from trans fat. A recent meta-analysis of randomized trials and prospective cohort studies found that replacing 2% of food energy (4-5 g/d) from trans fats with plant-based unsaturated fats reduced CAD risk by 24 %.1, 3
Higher habitual intakes of saturated and trans fats are independently associated with increased subclinical atherosclerosis in diverse populations including Asian Indians with 1g of trans fat having the same impact as 10 g of saturated fat.4
The major sources of trans fats include: Hard margarine; Vanaspathi (vegetable ghee); All crispy foods; All deep-fried Indian snacks; All deep-fried foods; Fast food; Reusing of cooking oils; Most processed foods; Commercially baked bakery products; Banana and other chips (Table 016)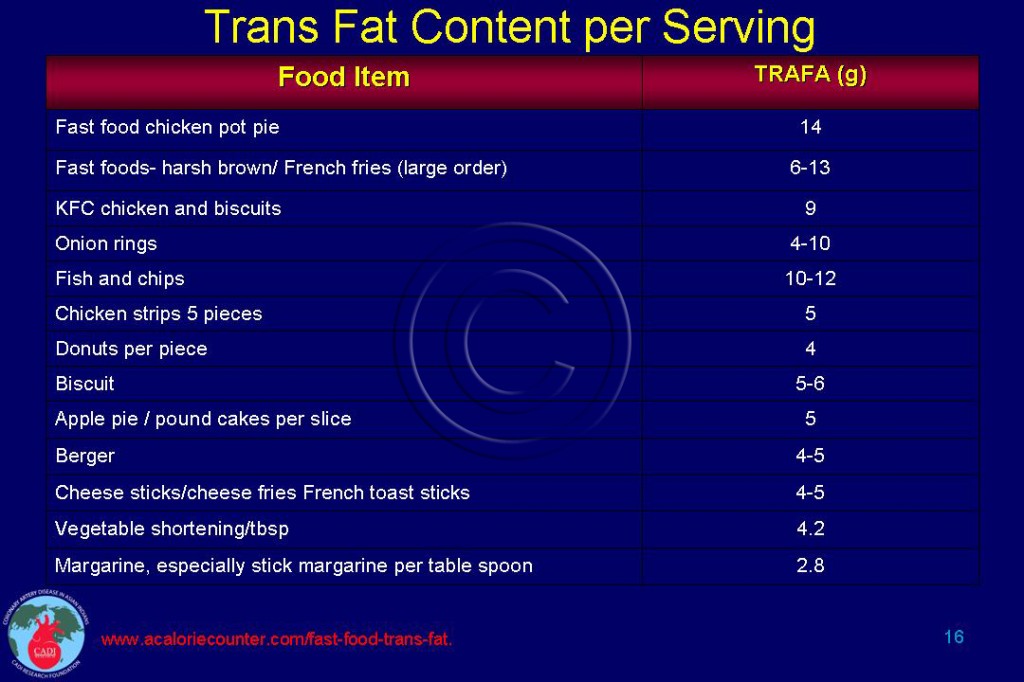 The process of partial hydrogenation of vegetable oils converts it into semisolid fats, like margarines that contain high concentrations of trans fats. Trans fats are commonly used for deep frying in restaurants and in the fast food, snack food, fried food, and baked goods industries, often to extend the shelf life of foods. Initially, these fats were considered the healthy solution, because they substituted butter and other unhealthy fats.5
Tolerable upper intake levels (ULs) set by the Institute of Medicine (IOM) are important, in part because they are used for estimating the percentage of the population at potential risk of adverse effects from excessive nutrient intake. The IOM did not set ULs for trans fat, saturated fat, and cholesterol because any intake level above 0% of energy increased LDL cholesterol concentration and these three food components are unavoidable in ordinary diets.6
Denmark became the first country, in March 2003, to introduce laws regulating the content of trans fats in food (maximum of 2% of edible fats and oils). Trans fats were banned in New York City restaurants from 1 July 2007. In major restaurant chains, total saturated fat plus trans fat in French fries decreased by more than 50% after implementing trans fat ban in New York city.7 There is growing vocal opposition to trans fats in the European Union.
The content of trans fatty acids varied from <1 g in Denmark and Germany to 12 g in New York (McDonald's) and 24 g in Hungary (KFC) for a serving of French fries and chicken nuggets. 50% the 43 servings studied contained >5 g per serving (see Table 017).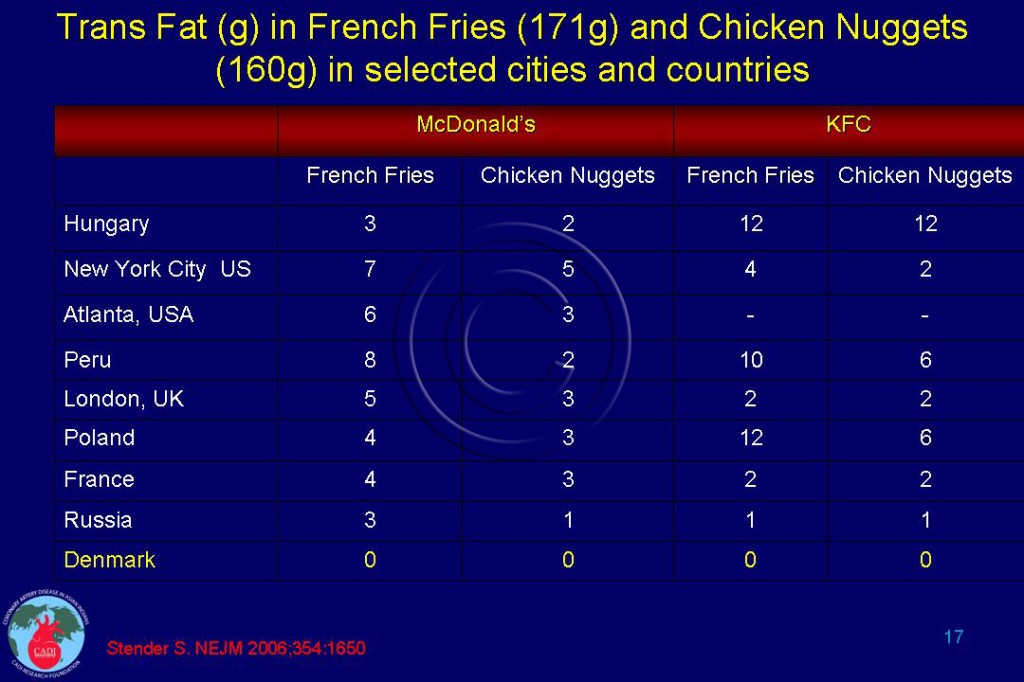 To promote public health, numerous state and local governments in the US have banned the use of artificial trans fats in restaurant foods, and additional bans may follow.
The Food and Drug Administration now requires labeling of trans fats on nutrition labels, a decision that has created a push to reformulate deep-frying oils. Prior to the passage of this law, frying oils contained trans fats which made the oils more stable and thus allowing for longer frying usage. Commercial deep-fried products are often made with repeatedly used oil with periodically added fresh oil.
Effects on CAD risk of removing trans fat from a person's diet vary depending on the trans fat content of the vegetable oil and fatty acid composition of the replacement fat or oil.
In controlled trials, each 2% energy replacement of trans fats with saturated fatty acids (SAFAs), monounsaturated fatty acids (MUFAs) or polyunsaturated fatty acids (PUFAs), respectively, decreased the total cholesterol (TC) HDL ratio by 0.62, 1.08 and 1.34 and lipoprotein(a) by 8 mg/dl.3
The UK Government recommends maximum trans fat intakes of up to 2% of total energy. Average intake levels for adults are 1.0% of energy, but minority populations on low income consume up to 6%.
Asian Indians consumed more fried foods and high-fat dairy products such as full-fat milk than whites in Canada and the UK.8 Many commonly consumed Indian foods contain more trans fat than French fries─ the western villain. For example the trans fat content of 100 g of French fries is 4.2 g-6.1 g, compared to 9.5 g in bhatura, 7.8 g in paratha and 7.6 g each in puri and tikkis made in vanaspati.
Increased consumption of trans fat results in increased insulin resistance, and abdominal obesity and in higher ALT values even in the absence of caloric excess.9, 10 Dietary trans-fat combined with MSG  (Monosodium Glutamate used in Chinese cooking) increased abdominal obesity and dyslipidemia.11
The two major dietary sources of trans fats are partially hydrogenated oils and ruminant-derived products, the latter carries minimal health risk.
Although trans fat information is prominently provided in the food label, many Americans particularly college students have never looked or used this information. Nonuse of food labels and trans fat information on food labels were associated with higher consumption of fried food.12
News coverage about trans fat, combined with labeling information, appears to influence consumer behavior in the short term. News coverage and product labeling may not be sufficient to promote sustained changes in trans-fat purchases.13
Actions to reduce trans fatty acids need to carefully consider both intended and unintended consequences related to nutrition and public health. Although less dangerous than trans fat, substitution of saturated fat for trans fat cannot be condoned (see

Saturated Fats

).14
Health care providers should advise public about how to minimize the intake of trans fats. Food manufacturers should choose to use alternative fats in food production and preparation. 
Protect your arteries from dietary damage. Avoiding foods with trans fat and limiting saturated fat and cholesterol may reduce your risk of atherosclerosis.
In controlled trials, replacement of trans fat with other fats can significantly reduce the TC/HDL ratio. The decrease in the TC/HDL ratio when 2% of the trans fat is replaced by saturated fatty acids (SAFAs) is 0.62, monounsaturated fatty acids (MUFAs) 1.08 or polyunsaturated fatty acids (PUFAs) 1.34. lipoprotein(a) by 8 mg/dl.3 
Sources
1. WHO. Prevention of cardiovacular disease. World Health Organization, Genewa Switzerland2007.
2. Denke M. A. Dietary fats, fatty acids, and their effects on lipoproteins. Curr Atheroscler Rep. Nov 2006;8(6):466-471.
3. Mozaffarian  D, Clarke R. Quantitative effects on cardiovascular risk factors and coronary heart disease risk of replacing partially hydrogenated vegetable oils with other fats and oils. Eur J Clin Nutr. May 2009;63 Suppl 2:S22-33.
4. Merchant AT, Kelemen LE, de Koning L, et al. Interrelation of saturated fat, trans fat, alcohol intake, and subclinical atherosclerosis. Am J Clin Nutr. Jan 2008;87(1):168-174.
5. Dalainas I, Ioannou HP. The role of trans fatty acids in atherosclerosis, cardiovascular disease and infant development. Int Angiol. Apr 2008;27(2):146-156.
6. Trumbo PR, Shimakawa T. Tolerable upper intake levels for trans fat, saturated fat, and cholesterol. Nutr Rev. May 2011;69(5):270-278.
7. Angell SY, Silver LD, Goldstein GP, et al. Cholesterol control beyond the clinic: New York City's trans fat restriction. Ann Intern Med. Jul 21 2009;151(2):129-134.
8. Enas EA, Yusuf  S. Third meeting of the International Working Group on coronary artery disease in South Asians, March 29, 1998 Atlanta, GA , USA. Indian Heart J. 1999;51:99-103.
9. Koppe SW, Elias M, Moseley RH, Green RM. Trans fat feeding results in higher serum alanine aminotransferase and increased insulin resistance compared with a standard murine high-fat diet. Am J Physiol Gastrointest Liver Physiol. Aug 2009;297(2):G378-384.
10. Kavanagh K, Jones KL, Sawyer J, et al. Trans fat diet induces abdominal obesity and changes in insulin sensitivity in monkeys. Obesity (Silver Spring). Jul 2007;15(7):1675-1684.
11. Collison KS, Makhoul NJ, Inglis A, et al. Dietary trans-fat combined with monosodium glutamate induces dyslipidemia and impairs spatial memory. Physiol Behav. Mar 3 2010;99(3):334-342.
12. Jasti S, Kovacs S. Use of trans fat information on food labels and its determinants in a multiethnic college student population. J Nutr Educ Behav. Sep-Oct 2010;42(5):307-314.
13. Niederdeppe J, Frosch DL. News coverage and sales of products with trans fat: effects before and after changes in federal labeling policy. Am J Prev Med. May 2009;36(5):395-401.
14. Eckel RH, Borra S, Lichtenstein AH, Yin-Piazza SY. Understanding the complexity of trans fatty acid reduction in the American diet: American Heart Association Trans Fat Conference 2006: report of the Trans Fat Conference Planning Group. Circulation. Apr 24 2007;115(16):2231-2246.