Nutrition Label Literacy 
Nutritional information is available on a variety of food sold in packets, packages, or cans but not on fresh food sold in groceries. Nutritional information is available upon request for many of the large fast food chains, however, most people fail to take advantage of this.
In the 2005-2006 National Health and Nutrition Examination Survey, 62% of participants used the Nutrition Facts panel, 52% looked at the list of ingredients, 47% looked at serving size before purchasing a product.
Those who used the nutrition fact label had significantly healthier nutrient consumption with regard to total energy, total fat, saturated fat, cholesterol, sodium, dietary fiber, and sugars Figure 065.1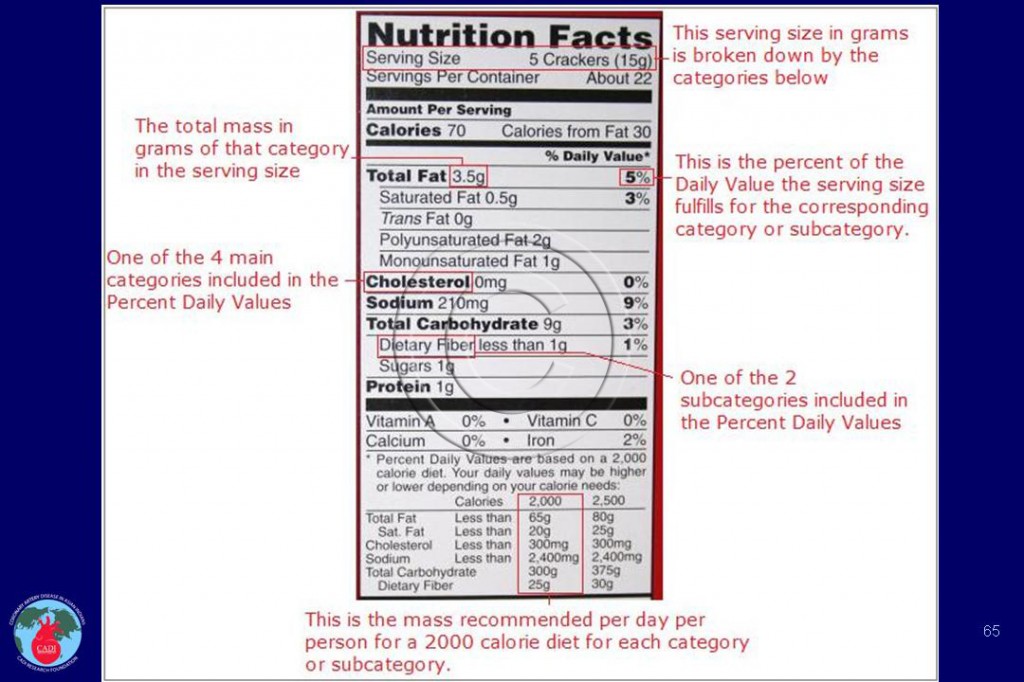 People with chronic disease generally reported better nutrition awareness and food label use compared with those without chronic disease, but this did not translate into unequivocally better eating behaviors. This indicates that new strategies are needed to improve the actual nutritional behaviors of persons with chronic disease.2
Studies in young adolescents has shown that educational programs can increase their knowledge of reading and understanding nutritional facts.3 This is probably true for adults as well.
The nutritional facts about most Indian foods exported to the US are available and displayed on the package. However, this information is not available to people consuming these foods in India.
The nutritional information on menus and menu boards at the point of purchase support consumers to make informed choices on food purchases in fast food restaurants. The Heart Foundation.
The Australian Heart Foundation is urging the government to implement mandatory nutrition labeling on restaurant menus, and the Minister of Health is consulting on the proposed plan. Currently, restaurants are not required to provide nutritional information to consumers, and no restaurants in South Australia have nutrition information on the menus. Only a few restaurants have pamphlets with nutrition information available to the public.
Several recent studies indicate that people profit most from the multiple traffic light labels (green = healthy, yellow = moderately healthy, red = unhealthy). It is hoped that such changes in perceived healthiness are likely to influence food choice and consumption.
The European Society of Cardiology and several organizations have joined hand to promote a traffic light system for food labeling.
Sources
1. Ollberding NJ, Wolf RL, Contento I. Food label use and its relation to dietary intake among US adults. J Am Diet Assoc. Aug 2010;110(8):1233-1237.
2. Lewis JE, Arheart KL, LeBlanc WG, et al. Food label use and awareness of nutritional information and recommendations among persons with chronic disease. Am J Clin Nutr. Nov 2009;90(5):1351-1357.
3. Hawthorne KM, Moreland K, Griffin IJ, Abrams SA. An educational program enhances food label understanding of young adolescents. J Am Diet Assoc. Jun 2006;106(6):913-916.