Heart disease in South Asian women in the UK
From 1971 to 1991, CAD (coronary artery disease) mortality fell by 17% for women in the UK, but only 7% in South Asian women. However, the changes in CAD mortality rates were not uniform among the South Asian subgroups. Since 1979, CAD mortality has decreased 15% among Pakistani women and 53% among Indian women.1
The CAD mortality remains stubbornly higher among South Asian women than men compared to their Europid counterparts.1
For Indians compared to Europids, heart disease mortality is 90% higher among women compared with 45% higher among men.1
Compared with their European counterparts, CAD mortality is 145% higher for Pakistani women but only 93% higher among Pakistani men.1
From 1979-83 to 1999-2003, the difference in CAD mortality actually increased among south Asians which was more marked among women. Currently, CAD mortality is substantially higher among South Asian women than men as shown in Figure 028. Data on Bangladeshi women was not available.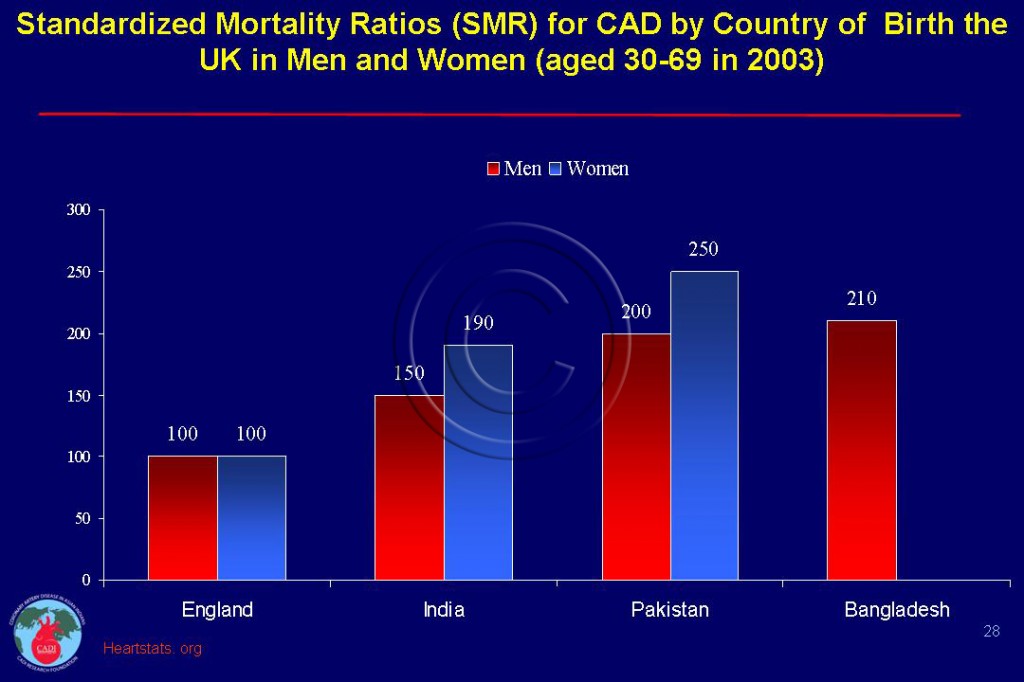 Apart from low socio-economic status, social prohibition of exercise in public places like health clubs and also religious mandates for dress codes that hinder physical activity deserve scientific scrutiny as potential causes for the heightened risk of heart disease among Pakistani women.
Sources
1. Harding S, Rosato M, Teyhan A. Trends for coronary heart disease and stroke mortality among migrants in England and Wales, 1979-2003: slow declines notable for some groups. Heart (British Cardiac Society). Apr 2008;94(4):463-470.